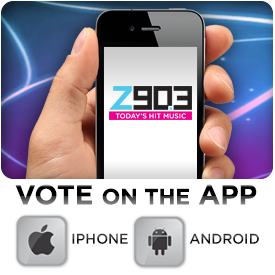 Monday through Friday on Z90.3 we play the top hits that you want to hear.
All the songs can be voted on in Z90.3's Top 20 section of the site and app. All you'll have to do is:
// Nominate up to 20 of your favorite songs.
1) VOTE EVERYDAY
// The poll will constantly be changed and updated based on what songs are hot and what songs are not.
2) TUNE IN TO Z90.3 ON THE RADIO, STREAM, or APP.
// Listen to what songs made 'Z90.3's Top 20' for the night.